Ultra-Sweet 100% Pure Havanese Puppies for the Discerning Dog Fancier.
Specializing in QUALITY Havanese - raised with love - shown with pride!
Well bred, well socialized puppies available to approved homes.
---
---
Retired Havanese Dogs from Elite Havanese
ELITE Retired dogs that have been a GREAT asset
to our breeding program, and set a solid healthy foundation.
Click on their photo to go to their page for more photos.
"Misty"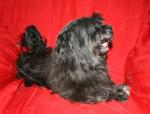 MISTYTRAILS, 'Lil Misty', is 15 years old, and the Foundation to ELITE Havanese (MistyTrails, Seantiago, Keopah, Rednettle, Havanangel, N'Paradise, and other lines).

At 15 years old, Sept. 2013, Misty spent 5 hours at the vet for a complete check up, tests, and complete blood panel and we are happy to say, all came back excellent, and as the vet said, surprisingly good for a girl her age. Human years, she would be about 80, but still acts like a puppy. Misty is mother to Ceiba, whom is mother to Catreeya, whom is mother to REO Westminster winner. She is a Great Great Great Grandma to many.

"Reo"



BONSS, MBIS, Intl / CKC / AKC
CHAMPION MistyTrails Double Stuf'd Oreo CGN
Multiple Best Bred By, in Breed and Group
Lives with Emily
View Pedigree and Photos
#1 "Blondo"
Imported from Spain

CHAMPION Blondo De Los Gabatos
Multi Champion bloodlines, incl.
Multi Champion Mucho Bravo Wild Willy
Lives in Vancouver
View Pedigree and Photos

"Catreeya"

CHAMPION MistyTrails Catreeya ByEmmy
Lives with Steve B in Sidney
View Pedigree and Photos
"Pearl"

MistyTrails MiNina De Perlas
Lives with Sharon
Dam of Multi Champion, BPISS Sebastion
View Pedigree and Photos

"Buca"

CHAMPION MistyTrails Black SamBuca
Lives with Darlene
View Pedigree and Photos
A great stud & a bonus to our breeding program.
Neutered at 7 years old.
Retired dogs, that either played a role in our breeding
program or were just pets that showed and never bred

"Naughty"



CHAMPION MistyTrails Ms Chevious DelSol
Lives with Claire
This website built and maintained by MSR Web Design at Meadow Springs Ranch